Customers are selecting for more and more odd hair colors to show off their fashion sense and personality, according to today's ever-changing hair trends. Vietnamese colored hair is currently one of the most popular hairstyles on the market, other than Vietnamese bone straight hair. In the article below, you'll find more amazing information about it.
Some typical colors of Vietnamese color hair.
For years, ombre color hair extensions, blonde color hair extensions, and red shade hues Vietnamese color hair have been the most popular among women all over the globe. 
Ombre colors Vietnamese color hair.
Ombre hair extensions have a darker root that fades into a lighter hue at the ends, and the transition is as fluid as a river flow yet not too contradicting. Clip-in hair, tip/tape-in hair, and closure/frontal hair are all examples of ombre color hair extensions.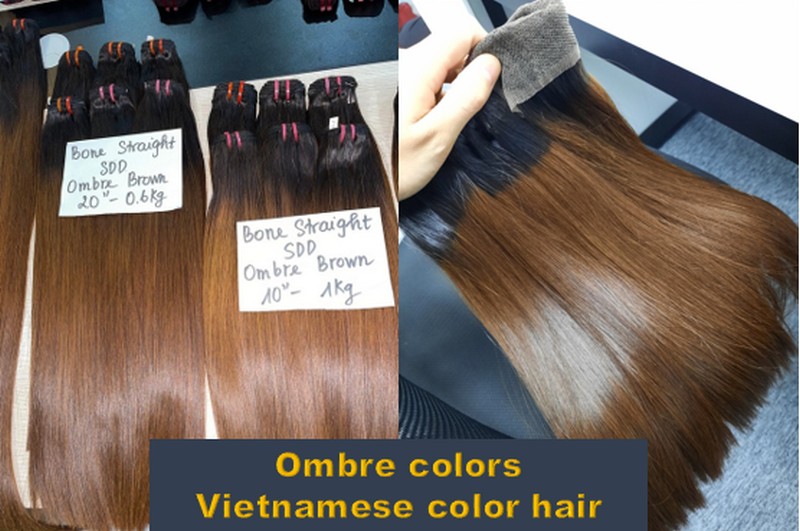 On the one hand, Ombre colors for Vietnamese hair have a number of advantages:
Ombre color hair extensions are the most appealing hair color combinations.
If your hair roots are naturally dark and match your current hair extensions after a few weeks, no touch-up is necessary.
Ombre color hair extensions' half-dark portions go with any skin tone, so it's your face shape that matters, not your skin tone.
You may style your hair extensions as you like and have them colored whatever trendy color you choose without harming your natural hair.
Blonde color Vietnamese color hair
Blonde color Vietnamese color hair is a vivid color, therefore if your natural hair extensions are a dark color like black or brown, you'll need to bleach them to get a true blonde look. As a result, while ordering blonde human Vietnamese color hair, the quality of the extensions must be carefully considered. and understand how to properly care for it:
Use shampoo and conditioner specifically formulated for blonde and colored hair…
Stay as far away from the heat as possible. Applying too much heat to your hair, on top of the chemical treatment, can cause serious damage and dull your shine.
Choose the proper oil for hair upkeep. Oils are beneficial to your health, but the process by which they are produced is critical. Any oil that isn't water soluble should be avoided by blondes.
Cut down on how much time you spend washing your hair. This method ensures that the natural oils that keep your hair moisturized are not exhausted. Finish each time you wash your hair with a cold rinse as an option to add to your program. This will maintain your hair lustrous and bright.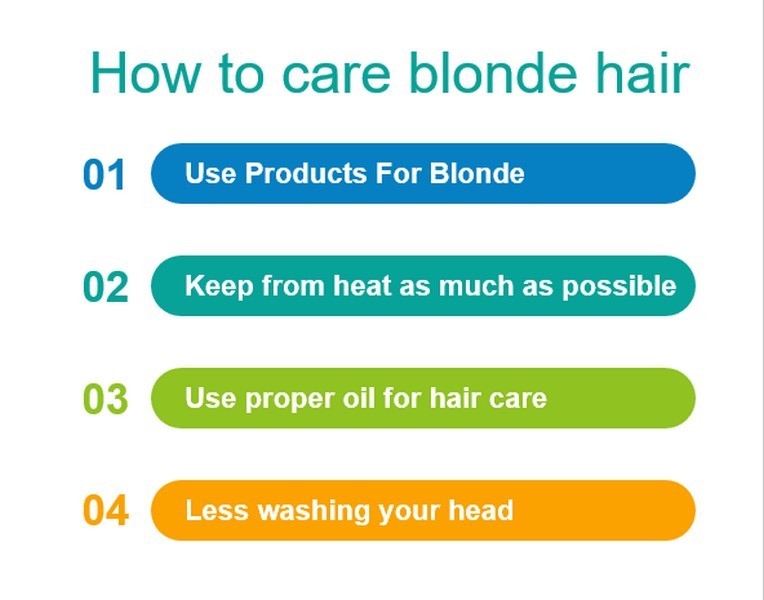 Because blonde color is regarded as the brightest shade of all so you need special care for this hair color. Read How to take care of Vietnamese hair for consultation.
Red shades colors Vietnamese color hair
The first problem is that they assume the red is just that: natural red! In fact, if you look attentively at a color chart, you'll see that red hair comes in a variety of shades. The most popular and dyed are as follows:
Strawberry blonde is the brightest hue on the red chart. It's a well-known warm reddish blonde shade that, in certain variations, seems sophisticated and prosperous. The majority of blondes and redheads who tried it were satisfied with the results. This is the most popular red among celebrities.
Cherry Brown Hair Color is a lovely mix of rosy red and dark brown that looks like cherry cola. If you have a medium to deep, cool-toned complexion and brown eyes, this is the color for you.
Burgundy: For brunettes, these human hair extensions are a terrific choice. It looks great on individuals of all skin tones. In this case, a solid hair color is ideal, but you may also experiment with faint highlights or lowlights.
Coral red hair is defined as having a pinky-orange undertone. It's suitable for all complexion tones, including fair, medium, olive, and dark. To get the brightness of this hue, you'll need to bleach your hair.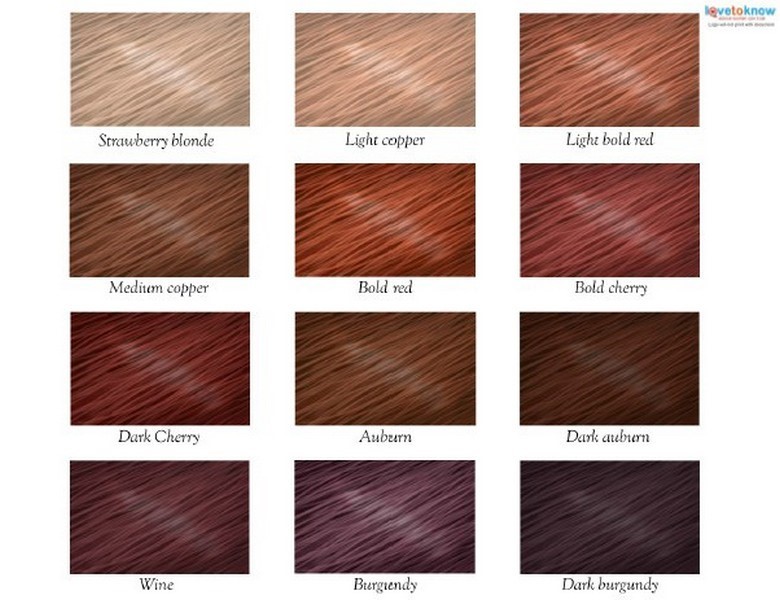 Virgin hair is the best hair qualities for Vietnamese color hair
Virgin hair is the best choice for Vietnamese color hair since it originates from younger females and has no grey hairs or damaged ends, besides the best remy hair extension products. When choosing virgin hair, donors must have long, full, healthy human hair. When it's gathered, it's usually hand-picked from thick, full, long ponytails. Because virgin hair collected from ponytails is of healthy non-processed hair, it does not require any additional chemical processing to make it appear wonderful.
In truth, virgin hair offers all of the benefits and drawbacks that you should be aware of when acquiring hair:
It's unusual for every nation on the planet to have its own virgin hair suppliers, particularly in developed countries where women have more open minds and are more willing to experiment with haircuts and color.
Because virgin hair is derived from a single donor, it is virtually identical in terms of color, cuticles, length, and health.
Virgin hair is good for bleaching and dying, especially light colours, because it has never been chemically processed and can attain the standard sample colors.
If you buy virgin hair for the purpose of wearing it with your own hair rather than for hairstyling or dyeing, you may wash it and even sleep with it because it is less knotted and sheds less.
Because of its rarity and expensive price, some merchants blend different hair characteristics and claim that they are virgin hair in order to make more money.
K-Hair Vietnam is a recommended hair vendor for Vietnamese color hair.
Since its start in the hair industry, K-Hair Factory has dominated this sector in the S-shaped country with a long list of outstanding achievements. Furthermore, K- Hair Factory is a great choice for high quality at a low cost. You definitely need to know the details on how to import Vietnam hair to buy hair extensions from K-Hair!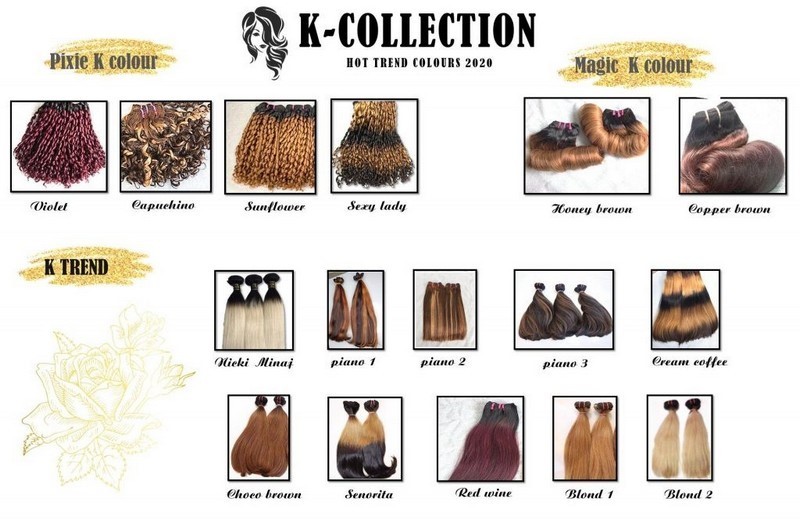 Vietnamese color hair from K-Hair Factory is made up of 100 percent human hair extensions created from natural hair from Vietnam, as well as a range of super double drawn hair. Aside from the trendy blonde: #613, K- Hair Factory offers a range of additional colors and lengths, including #1b, #2, #4, #6, #8, #10, #60, and others. Don't worry if folks aren't sure which styles are ideal for their face and skin tone.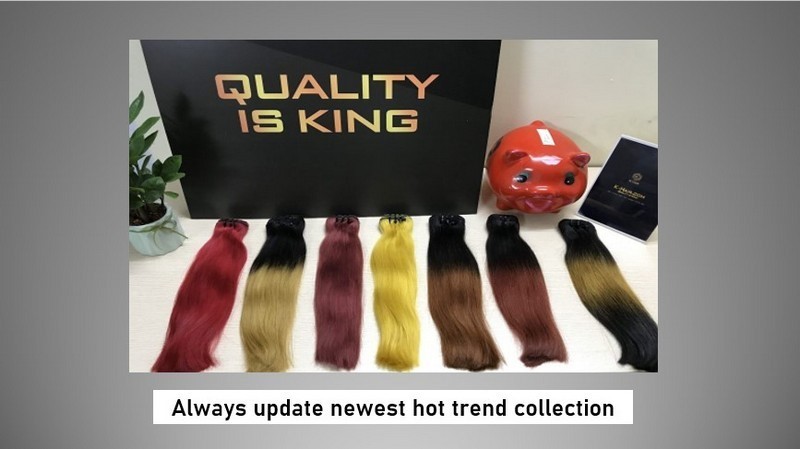 At K-Hair Factory, they may choose from a variety of styles, including body waves, kinky curly, straight, and more. The average cost of Vietnamese color hair is $8.80. Let's not forget about K- Hair as a great alternative for those looking for coloured hair extensions.
Contact information: 
Website: www.k-hair.com
Instagram : the_k_hair
Fanpage: K-Hairvn
Whatsapp: +84855588000
In case you are afraid that such hair extensions from an Asian countries cannot fit all the worldwide vibes, don't forget that the hair factories are able to give you customizing orders as well. You can freely order kinky hair extensions or dreadlock hair extensions, etc: https://www.scoop.it/topic/k-hair-factory-blog/p/4129439087/2022/01/13/human-hair-extensions-dreadlocks-new-trend-to-specialize-individuals-k-hair-1-vietnamese-weft-hair-raw-hair-closure-and-hair-extensions